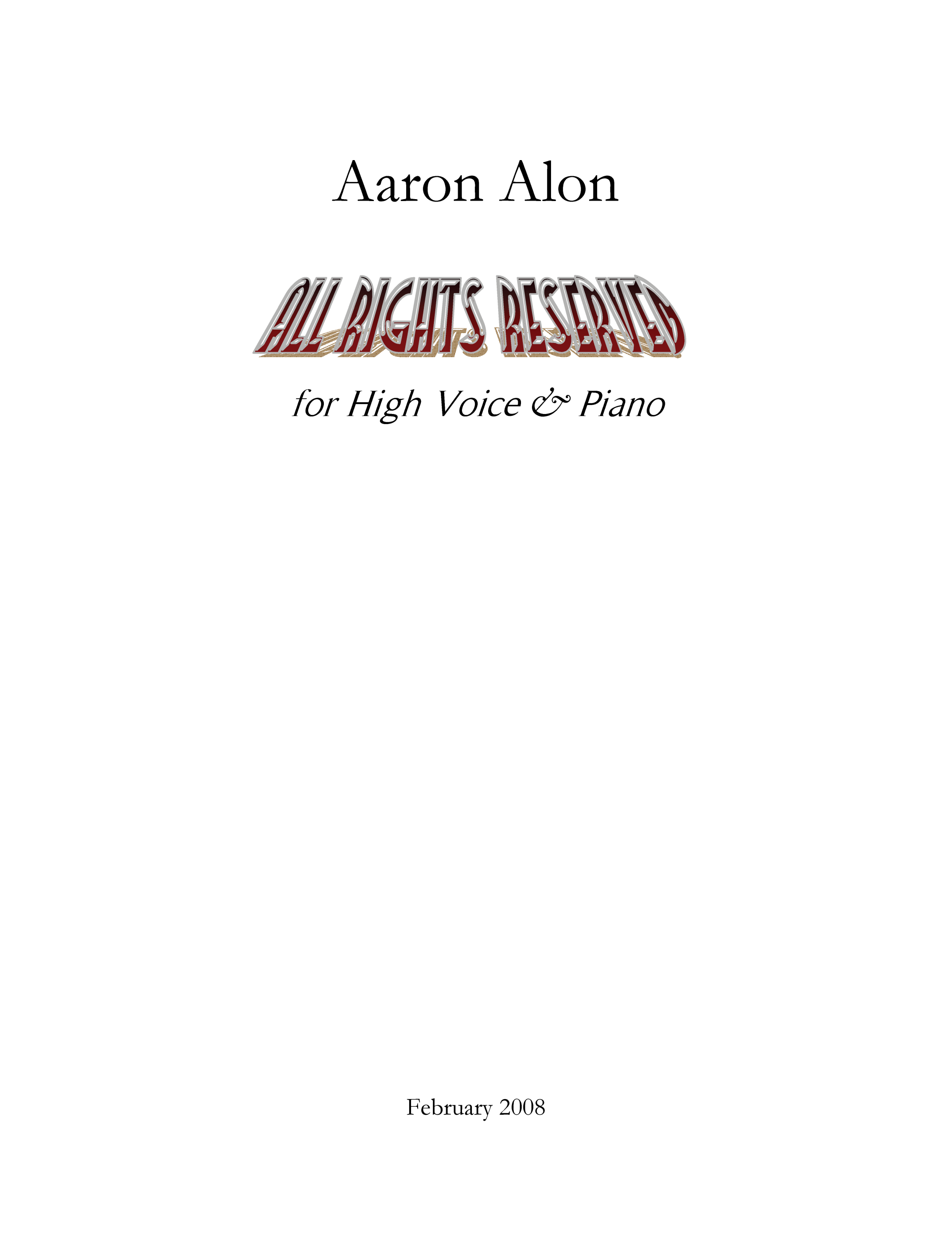 2008
All Rights Reserved
for High Voice and Piano
Composers who choose to work with texts routinely run into questions of rights and royalties. Poets are now granted protection over their works for their lifespan and an additional seventy years, often leaving composers the option between setting poets in the public domain (those who died before 1923) or battling for rights, often with the poets' estates. Some poets, like Robert Frost and T.S. Elliot, allegedly stopped allowing composers to set their works as music became increasingly modernist. In response to this frustrating problem, this art song raises another possibility, the dreaded one when composers choose to write their own texts to avoid the problem entirely. The piece does take advantage of one little loophole in the copyright law: parody is excluded from it. As such, the piece includes quotes—some glaring, others hidden—from Reich and Bizet to Andrew Lloyd Webber and Richard Rodgers. And for those wishing to steal, as Stravinsky claims all great artists do, I remind you that this work is protected by United States copyright, All Rights Reserved!
All Rights Reserved
Work Details
DURATION
5½ minutes
PREMIERE
April 14, 2008
Aaron Alon DMA Recital
Shepherd School of Music, Rice University, Houston, TX
AWARDS
2009 National Federation of Music Clubs Emil & Ruth Beyer Composition Award (1st Place)
RECORDING
Studio Recording
Not commercially available
Ross Chitwood (tenor), Ben Laude (piano)
PERFORMANCE MATERIALS
For parts and other performance materials, contact Aaron Alon.
Because no new texts are in the public domain,
I decided to write my own
My own.  My own!
My own—
text.
But I ran into a problem.
A problem.
In that nothing rhymes with orange.
Orange.
Nothing 'cept for orange.
Orange.
And I already used it.
Crap.
That's all right.
That's okay.
I'll write a new text anyway.
A text 'bout writing texts.
But nothing rhymes with text.
Nothing 'cept for…sexed.
And that's just really vulgar.
And nothing rhymes with vulgar.
Nothing 'cept for bulgur.
And what the hell is bulgur?
Oh that's a type of grain.
Oh the grain is as thick
As an elephant's…
Trunk!
Oh now, this is inane,
Going on about grain.
Well, it's at least a text.
Oh hell…text, text, text.
Well, at least it isn't orange.
Damn.
Okay…forget all the rhymes.
The Romantic sublimes.
What I need is length.
So, I must use melismas.
Melismas!  Melismas!
Meli—
…lismas.
Right.  I need rhymes for 'melisma.'
I want ones with charisma,
But instead this is abysma
Oh, where's the Pepto Bisma?
Well, I guess this is show bizma!
Memories!
Of when one could set T.S.,
But now it's just B.S.!
A copyright waste land.
You'd better make haste, and
Unless thou findest that thou likest best
To be acquainted with an antiquated
Shakespearian tongue that long 'twas laid to rest
Thou must seek rights to texts not so outdated.
But you can't use Frost.
It's a law suit lost.
A line you never crossed,
'Cause you can't afford the cost.
No, you must have been quite sauced
To even think of setting Frost!
With art impeding art today,
Who needs to blame the NBA?
Great artists steal, or so they say.
Though this may hardly be Bizet.
The copyright restrictions
Are all just maledictions,
The composer's worst affliction
Except deadlines and eviction!
So I'll try to write new poems
Never found in dusty tomes
Yet I find myself unsexed
Feeling vexed and too perplexed
As I search for what comes next
…After "text"
Well, at least it isn't orange.