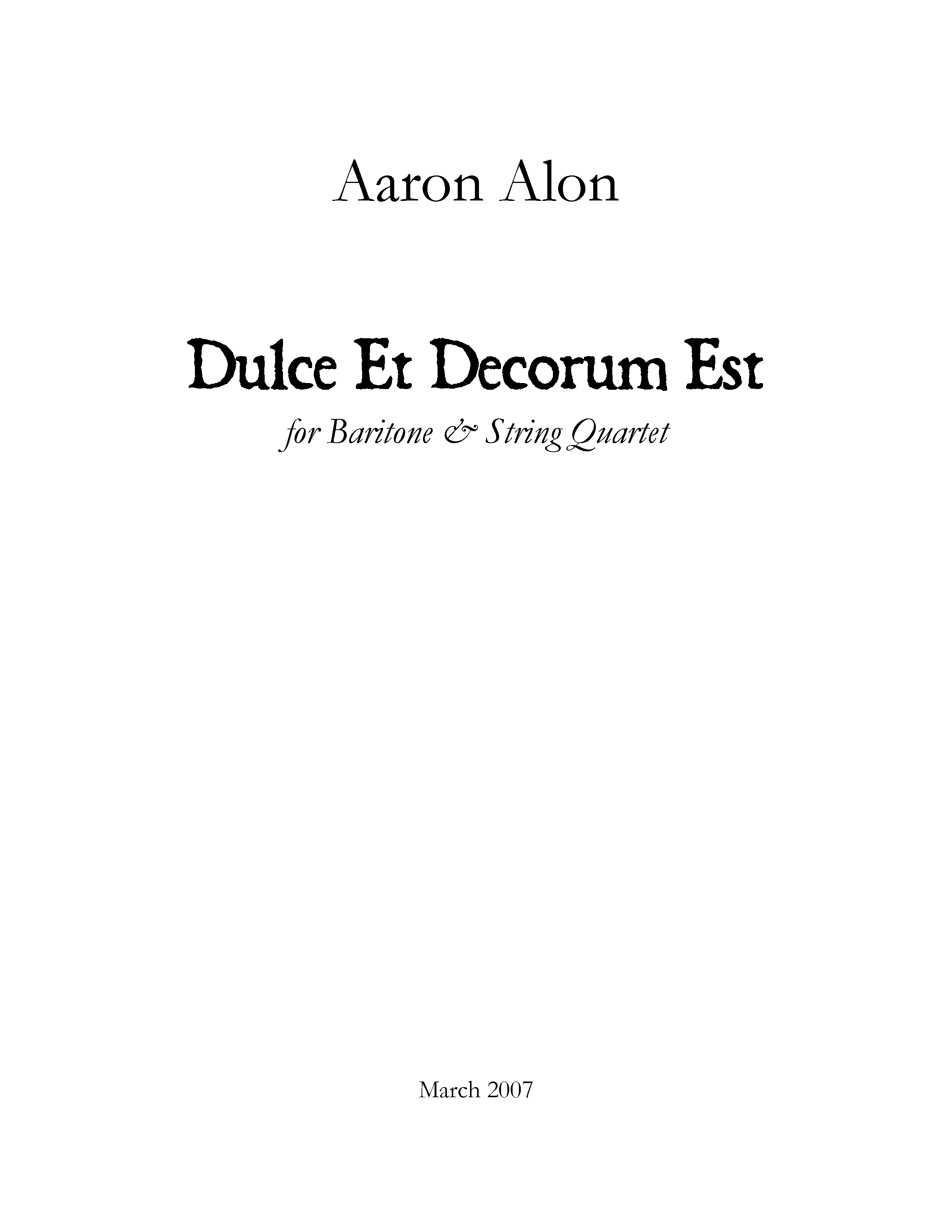 2007 (Piano Version: 2010)
Dulce et Decorum Est
for Baritone and String Quartet
(alt. version for Baritone and Piano)
As one of the most powerful anti-war poems in the English language, Wilfred Owen's "Dulce et Decorum Est" reminds us of what is truly at stake in war, of the true horrors that are hidden in the daily statistics. The text challenges the call to arms from Horace's Odes, which is quoted in Latin as the last two lines of the text: "It is sweet and right to die for your country." A slow opening, depicting the soldiers' weary return to their campsite, gives way to a sudden, rhythmically charged section as the speaker is launched into a flashback of a WWI gas explosion. Quotations of the rally tune, "Battle Cry of Freedom," appear with increasing clarity in the piece. This piece was supported by a grant from the Mu Phi Epsilon foundation. An arrangement for baritone and piano is also available.
Dulce Et Decorum Est
Work Details
DURATION
6½ Minutes
COMMISSION
Colm Estridge
PREMIERE (String Quartet Version)
November 3, 2007
Composers' Forum Concert
Shepherd School of Music, Houston, TX
Mark Whatley, baritone; Eva Liebhaber, violin I; Kaoru Suzuki, violin II; Elizabeth Charles, viola; Jennifer Humphreys, cello
PREMIERE (Piano Version)
March 11, 2010
Art Song Forward
The Lotte Lehmann Foundation, Beth Morrison Projects, and Phoenix Concerts, Galapagos Art Space, Brooklyn, NY
Daniel Neer (baritone), Michael Fennelly (piano)
AWARDS
2009 ASCAP/Lotte Lehmann Foundation Art Song Competition Honorable mention
2009 SCI/ASCAP Student Composition Commission Contest National Finalist & Regional Winner
2009 Mu Phi Epsilon Composition Contest
2008 Texas Composer Competition
PERFORMANCE MATERIALS
For parts and other performance materials, contact Aaron Alon.
Dulce Et Decorum Est
Recording and Publication
Ascend (2017)
LABEL: Navona Records
PERFORMERS: Mark Whatley, baritone; Eva Liebhaber, violin 1; Kaoru Suzuki, violin 2; Elizabeth Charles, viola; Jennifer Humphreys, cello
The Text
Poem by Wilfred Owen
Bent double, like old beggars under sacks,
Knock-kneed, coughing like hags, we cursed through sludge,
Till on the haunting flares we turned our backs
And towards our distant rest began to trudge.
Men marched asleep. Many had lost their boots
But limped on, blood-shod.  All went lame; all blind;
Drunk with fatigue; deaf even to the hoots
Of tired, outstripped Five-Nines that dropped behind.

GAS! GAS! Quick, boys!—An ecstasy of fumbling,
Fitting the clumsy helmets just in time;
But someone still was yelling out and stumbling
And flound'ring like a man in fire or lime . . .
Dim, through the misty panes and thick green light,
As under a green sea, I saw him drowning.
In all my dreams, before my helpless sight,
He plunges at me, guttering, choking, drowning.
If in some smothering dreams you too could pace
Behind the wagon that we flung him in,
And watch the white eyes writhing in his face,
His hanging face, like a devil's sick of sin;
If you could hear, at every jolt, the blood
Come gargling from the froth-corrupted lungs,
Obscene as cancer, bitter as the cud
Of vile, incurable sores on innocent tongues,—
My friend, you would not tell with such high zest
To children ardent for some desperate glory,
The old Lie: Dulce et decorum est
Pro patria mori*
—Wilfred Owen
*Trans.: It is sweet and right to die for your country.