2005 (rev. 2006)
Hibakusha
for Solo Flute

Following the bombings of Hiroshima and Nagasaki, many survivors were plagued with Post-Traumatic Stress Disorder. These survivors are known as Hibakusha (pronounced "hih-BAHK-shah"). This piece seeks to capture their state of shock, sometimes described as a 'frozen dream,' as they were ever-haunted by their devastating past. While this was first envisioned as a larger ensemble piece, there is something profoundly isolating about the survivors' condition, which suggested the solo instrumental treatment adopted here.
When performed in Japan, the piece is titled MEISO…hibakusha ni sasagu (Meditation…Dedicated to Hibakusha).
DURATION
6 minutes
DATE
2005, rev. 2006
US PREMIERE
February 11, 2006
Society of Composers, Inc. Region VI Conference
Shepherd School of Music, Rice University, Houston, TX
Catherine Branch (flute)
INTERNATIONAL PREMIERE
March 11, 2009
Webster Trio Japan concert
Tokyo Bunka Kaikan
Leone Buyse (flute)
Additional international performances in Sydney and Melbourne, Australia; Rome, Italy; Oyama City, Japan; and Kromeritz, Czech Republic
AWARDS
2008 Composers in Red Sneakers Young Composers Competition (3rd place)
PERFORMANCE MATERIALS
For performance materials, contact Aaron Alon.
Hibakusha
Recordings and Publications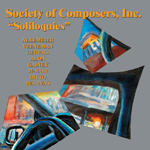 Soliloquies (2009)
LABEL: Society of Composers, Inc.
PERFORMERS: Catherine Branch (Audio Engineer: Fran Schmidt)
Anthology of Contemporary Concert Music (2011)
PUBLISHER: PARMA Recordings's New Music Website
Hibakusha in Anthology of Contemporary Concert Music (2011): 18-22.
Review
Akemi Hara
Ongaku No Tomo
"[In] Gaubert's 'Romance,' flute and piano, and Alon's "Meiso…dedicated to Hibakusha,' solo flute, Buyse performed with healing tone, especially the second piece (Meiso), her performance sincerely brought us a message of memorial and prayer for peace."
Review
Allen Gimbel
American Record Guide 2012
"…[the] 'numb state of shock' is put forth by spooky humming into the instrument, shivering flutter-tonguing, and pent sighs punctuating lonely melodic lines."
Radio Broadcast
KUHF NPR and KUHA Classical Radio
Houston, Texas
Interview with Aaron Alon and Natalie Zeldin talking about "Hibakusha" (Caution: This begins loudly.)