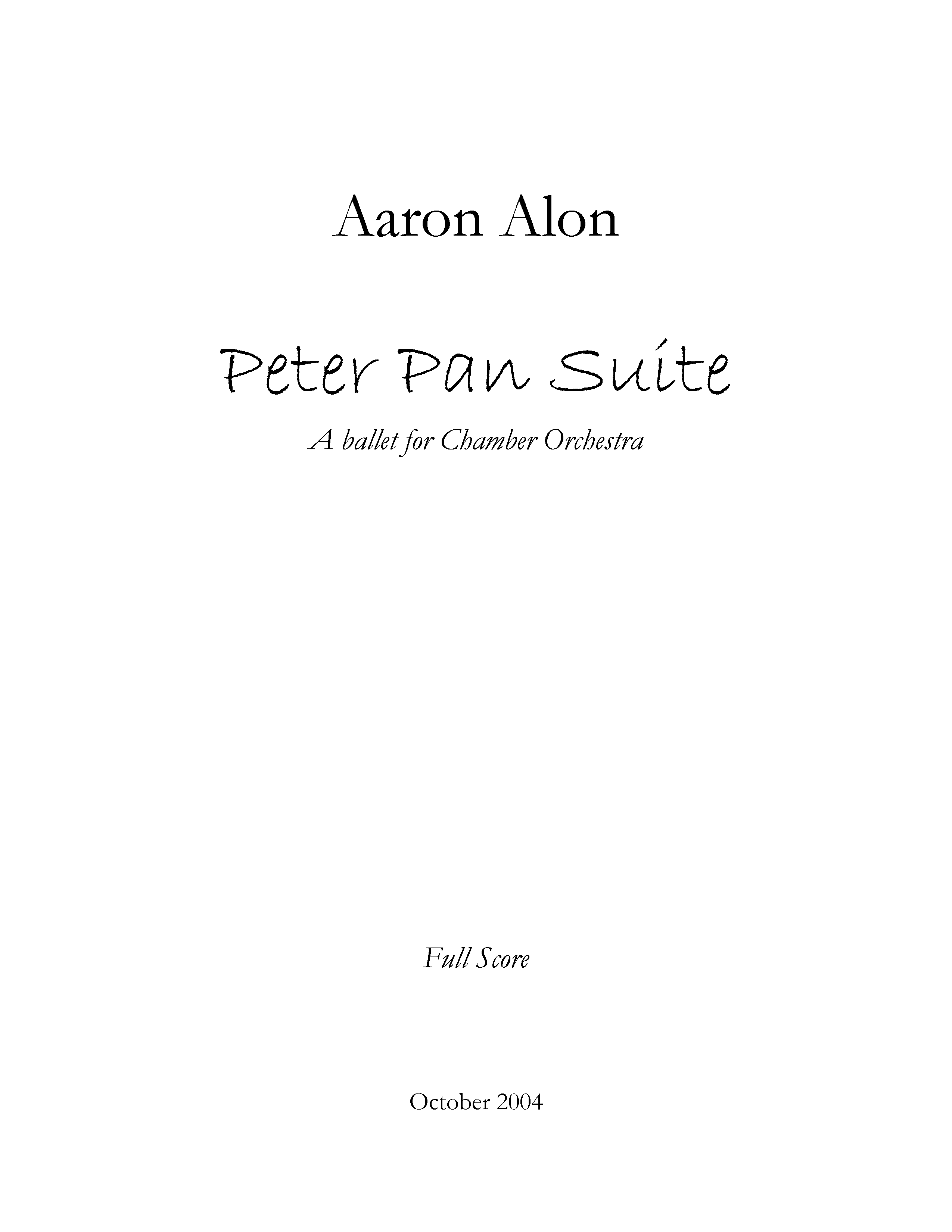 2004
Peter Pan Suite
for Chamber Orchestra
(Wind Quintet, String Quintet 2:1:1:1, harp, celesta, 3 perc.)
Peter Pan Suite is a suite of five movements from my children's ballet based on JM Barrie's Peter and Wendy (1911). In "Boy, Why Are You Crying?", Peter is weeping on the floor of the Darling nursery, mourning for his detached shadow. Wendy sews it back onto him, leading Peter first to delight and then to devilish mischief, as he plans to lure the children from their home. In "Hook or Me", Hook has captured the children, but Peter comes to their rescue pretending to be the crocodile who hunts after Hook. Peter and Hook fight gloriously, until Hook falls from his ship into the waiting jaws of the crocodile. In "The Strange Boy at the Window", the children are on their way home, but Peter flies ahead to close and bar their window and convince them that their parents have forgotten them. Peter, however, sees Mrs. Darling weeping inside and despite all attempts to distract himself in games and mischief, he is overcome by guilt and unbars the window. The children fly into their parents' waiting arms and are tucked into bed. Peter is left alone outside, staring in at the one joy from which he is forever barred. In "Boy Why Are You Crying?", Wendy tucks her own daughter, Jane, into bed, only to discover that Peter has returned for her. She turns on the light and Peter discovers, with a jolt, that she is old. Wendy runs from the room, while Peter sinks to the floor and sobs. When Wendy returns, it is to find Jane in her nighty flying around the room with Peter. The final movement is a postlude, recalling some of the themes and juxtaposing both the familiar wonder of Barrie's novel with its darker, more unsettled side, ultimately ending ambiguously.
Peter Pan Suite
Work Details
DURATION
14 minutes
PREMIERE
November 3, 2007
Aaron Alon MM Recital
Kulas Hall, Cleveland Institute of Music, Cleveland, OH
Sean Newhouse conducts members of the CIM Orchestra
AWARDS
2005 National Federation of Music Clubs Emil & Ruth Beyer Composition Award
2005 SCI/ASCAP Student Composition Commission Contest Finalist
2005 Mu Phi Epsilon Composition Contest (Postgraduate division, large work category)
RECORDING
Live Recording
Not commercially available
Sean Newhouse conducts members of the CIM Orchestra
PERFORMANCE MATERIALS
For full-size score, parts, and other performance materials, contact Aaron Alon.
Peter Pan Suite
Video Trailer